Our Technology
We are fully equipped with the latest retinal imaging equipment for ophthalmic diagnosis.
Digital Fundus Photography
Digital Fundus Photography and multi-spectral imaging is high-resolution digital colour photography of the retina, or light-sensitive film at the back of the eye, provides information for both diagnosis and comparison over time.
This form of imaging is now supplemented by devices that use different wavelengths of light, which enables one to see changes in the retinal structure in a way not possible with conventional light.
These fine details are used to better diagnose, monitor and guide treatment of retinal conditions such as macular degeneration and diabetic retinopathy.
Even more, specialized imaging techniques such as fundus autofluorescence use special light filters that provide information about the actual function of cells critical to the health of the macula.
Optical Coherence Tomography (OCT)
Optical Coherence Tomography (OCT) is a specialised camera that obtains cross-section pictures of your retina. It projects light rays onto your retina and uses the reflected light to build up images of the various layers of the retina.
OCT is essential in diagnosis and treatment planning for a wide range of macular diseases, including macular degeneration, diabetic macular oedema, macular hole and epiretinal membrane.
South Street Eye clinic uses the Spectralis OCT, the state of the art spectral domain ultra-high resolution OCT.
This device uses light reflecting off various layers of the retina to build up a cross-sectional image. With the modern state of the art spectral domain devices with eye-tracking technology, unprecedented clarity and resolution down to a few thousands of a millimetre can be achieved.
By imaging individual cell layers in the retina, this highly specialized device has become absolutely indispensable. It enables early detection and monitoring of macular degeneration, macular holes, epiretinal membranes, and diabetic macular oedema.
Treatment monitoring and planning for macular degeneration and diabetes is guided by OCT. This is a simple quick exam performed on all our patients.

Fundus Fluorescein Angiogram and Indocyanine Green Angiography
Fundus Fluorescein Angiogram (FFA) and Indocyanine Green (ICG) Angiography are specialised tests used to diagnosis and treatment planning of retinal diseases such as 'wet' macular degeneration, diabetic retinopathy and retinal vein occlusion.
It involves injecting a special dye, fluorescein and/or indocyanine green into the vein of your arm, which travels to the circulation of your eye (retinal blood vessels and choriocapillaris). Using special light and filters, sequential pictures of the dye travelling in your retina circulation are obtained.
These pictures provide information that is otherwise not apparent on clinical examination and are used to confirm the diagnosis and aid further treatment.
Fundus angiography uses light only with specialised filters to study the blood vessels of the retina and the deeper choroidal vessels. Fluorescein (yellow) or Indocyanine Green (green) dye is injected into a peripheral vein in the arm or hand.
The dye circulates through the eye and multiple images are captured during this process revealing not only the anatomical structure of blood vessels but also their function. This detailed imaging of retinal and choroidal vessels is essential for the diagnosis and management of conditions such as macular degeneration, diabetic retinopathy, retinal vein or retinal artery occlusion.
Both tests are considered safe and serious side effects or reactions are very uncommon. If you require one of these tests, you will be given extra written information, and any further questions you have about the tests will be answered.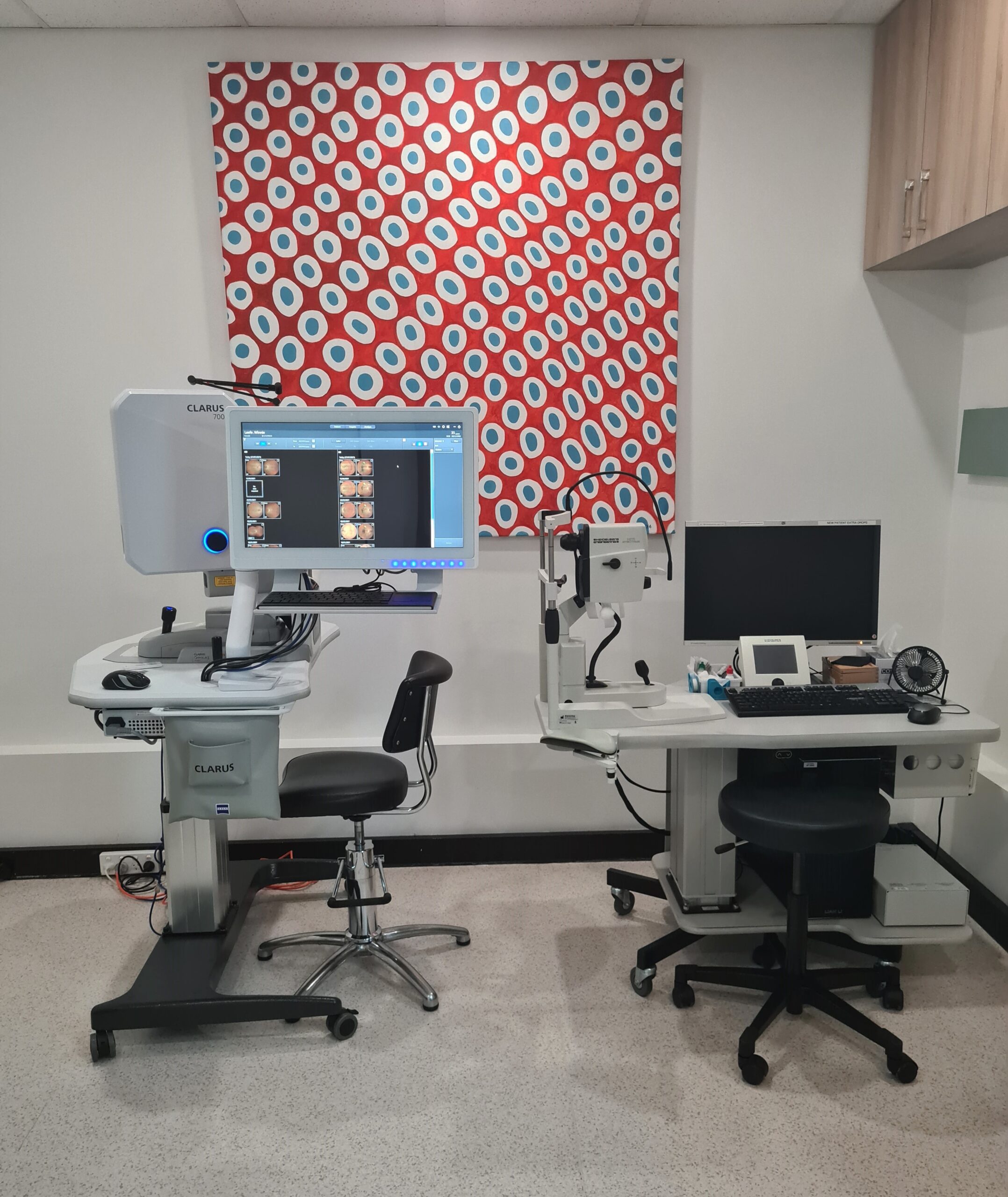 Angiography and Ultra-widefield Imaging
The Optus 200Tx ultra-widefield imaging and angiography is a state of the art camera that takes an ultra-widefield photograph of your retina. It allows an accurate way of monitoring changes in your retina, such as in diabetic retinopathy.
It also allows the doctor to demonstrate the conditions affecting your retina.
Fluorescein angiogram pictures can be obtained using the Optos 200Tx, showing changes in the retinal circulation in the far periphery of the retina not obtainable with conventional fluorescein angiogram. This further aids the diagnosis and treatment of retinal vascular conditions such as diabetic retinopathy and retinal vein occlusion.
Ocular Ultrasound (B-Scan)
Ocular Ultrasound (B-Scan) is an imaging device that uses sound waves to study structures at the back of the eye. Examination or photography of the retina is sometimes not possible due to a dense opacity (eg. dense cataract or vitreous haemorrhage) obscuring the view.
This test gives important information on the retina in such settings, further aiding diagnosis and appropriate treatment.
IOLMaster
IOLMaster is a specialized device used to measure the curvature of the cornea, and length of the eye.
This is usually performed prior to planned cataract surgery and is required for calculating the strength of the new prosthetic lens to be implanted.
Pachymeter
Pachymeter is a device for measuring the thickness of the cornea.
This is important for the accurate diagnosis of elevated pressure in the eye which can lead to glaucoma.
Visual Fields Test
Visual Fields test is an eye examination that tests the function in your central and peripheral vision. It is most commonly performed to assess glaucoma, and also tests vision defects due to strokes.
The test is done in the clinic and is a computerized automated test that requires approximately 20 minutes.